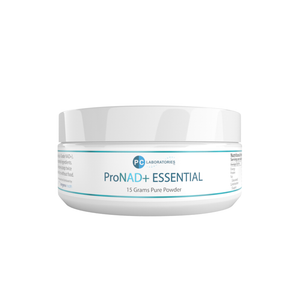 Description
ProNAD+ Essential Powder by PC Laboratories
ProNAD+ Essential is a Nicotinamide Adenine Dinucleotide supplement that has been clinically formulated to provide you with a high-quality source of NAD+, a co-factor found in all living cells.
NAD+ is a critical coenzyme found in every cell in your body, and it's involved in hundreds of metabolic processes. But NAD+ levels decline with age. NAD+ has two general sets of reactions in the human body: helping turn nutrients into energy as a key player in metabolism and working as a helper molecule for proteins that regulate other cellular functions. When produced naturally NAD+ may help to:
Increase DNA damage repair.
Improve cognitive function.
Boost oxidative stress resistance.
Restore youthfulness and energy levels.
Reduce inflammation.
ProNAD+ Essential is Vegan Friendly.
Serving Suggestion
Adults – Take one capsule twice daily. ProNAD+ can be taken in the morning or at night, with or without food.
Ingredients
Silica, Nicotinamide Adenine Dinucleotide (Purity 99.1% COA Verified). Capsules are 100% Vegetarian.